29/05/13 10:19
The Compton Automotive Guide To Selecting Tires And Wheels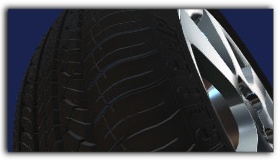 Some Rowlett car owners love driving, love their vehicles: To them,
picking out the right tire
is just as important – and just as much fun – as finding the right shoes is to a runner.
Now not everyone in Rowlett is like that. Many TX people have found that shopping for tires is overwhelming because there are
just so many choices
. So let's break it down: there are four main categories of tires, depending on the kind of driving you do.
First, there are
summer tires
. You would buy summer tires if you're looking for maximum summertime performance. The rubber is a little softer to help you stick to the road in fast corners. The tread has wide blocks at the shoulder to stiffen the tire in turns. The tread design can handle rain, but really isn't set up for snow and ice.
Next comes
winter tires
. You would buy winter tires if you still like performance driving when it's cold and slippery out, so you need a tread design that'll really bite into ice and snow. The rubber compound is formulated to stay pliable when temperatures drop below 45 degrees so you get great traction even on dry roads. On the other end of the winter tire spectrum are tires designed to handle severe ice and snow conditions.
The third category is
all-season tires
. Now, most new cars come with all-seasons in Rowlett. The idea is a tire that you can use all-year round in TX. Naturally, the tread design and rubber compound is a compromise that won't give you the extreme capabilities of summer or winter tires, but if your driving and weather conditions aren't at the extreme ends of the spectrum, all-season tires might suit you just fine.
The last category is
all-terrain tires
. These tires are designed for both Dallas highway and off-road use. If you need a tire that gets good traction in the dirt and is tough enough for rocks and ruts and stuff, but still performs well on the road, an all-terrain tire might be just what you need.
Talk with your cheerful Compton Automotive tire professional in Dallas about how and where you drive and get his suggestions for tires that'll work for you.


Give us a call!


Compton Automotive
10333 Garland Road
Dallas, TX 75218

At
Compton Automotive
in Dallas TX (75218) we install
quality NAPA replacement parts
. Give us a call at
214.321.2617
. To learn more about NAPA AutoCare, visit
www.NAPAAutoCare.com
.